Assoc. Prof. Janez Mulec, Ph. D.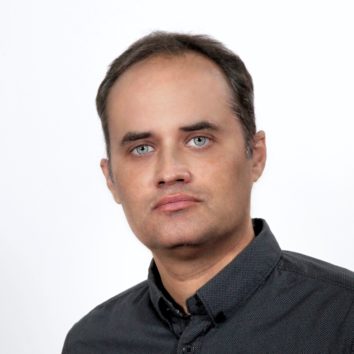 Associate Professor at master degree study programme (2nd cycle) Earth and Environmental Sciences at Postgraduate School ZRC SAZU.

+386 5 700 1945
janez.mulec@zrc-sazu.si

Course principal:
Earth and Environmental Sciences (master study 2nd cycle):

Elective courses of the Biodiversity, ecology and evolution module:
Education
BSc in Microbiology (Biotechnical Faculty, University of Ljubljana, 1999)
MSc in Biomedicine – Microbiology (Biotechnical Faculty, University of Ljubljana, 2002)
PhD in Biology  (Biotechnical Faculty, University of Ljubljana, 2005)
Fieldwork and research interests
Mulec examines all three types of subsurface habitats that are colonized by microorganisms: water, air, and sediments. Microorganisms in karst play a very important role in the global carbon cycle and in speleogenetic processes. On one hand, the microbiota is involved in the cycling of matter and energy fluxes through (bio)geochemical cycles, and on the other hand, it also interacts with microbes whose subsurface habitat is not their primary habitat or serves them only in the intermediate phase on their way to new environments. Of particular interest in this context is the aspect of the subsurface as a source of microbial pathogens for humans and animals.
Main visiting appointments
Visiting Researcher, Louisiana State University, USA (2009)
Visiting researcher, Medical University of Vienna, Austria (2009, 2010, 2011, 2012)
Visiting researcher, Biology Center of the Academy of Science of the Czech Republic, Czech Republic (2013, 2014, 2015)
Other
Adjunct professor for Microbiology, University of Nova Gorica
Advising the managers of tourist caves
Coordinating microbiological research at the Karst Research Institute ZRC SAZU
Selected publications
Mulec, J., Oarga-Mulec, A., Holko, L., Pašić, L., Kopitar, A.N., Eleršek, T., Mihevc, A. 2021. Microbiota entrapped in recently-formed ice: Paradana Ice Cave, Slovenia. Scientific Reports, 11, 1993: 1-12
Mulec, J., Simčič, S., Kotar, T., Kofol, R., Stopinšek, S. 2020. Survey of Histoplasma capsulatum in bat guano and status of histoplasmosis in Slovenia, Central Europe. International Journal of Speleology, 49, 1: 1-10.
Mulec, J., Oarga-Mulec, A., Šturm, S., Tomazin, R., Matos, T. 2017. Spacio-temporal distribution and tourist impact on airborne bacteria in a cave (Škocjan Caves, Slovenia). Diversity, 9, 3: 1-14.
Mulec, J., Krištůfek, V., Chroňáková, A., Oarga-Mulec, A., Scharfen, J., Šestauberová, M. 2015. Microbiology of healing mud (fango) from Roman thermae Aquae Iasae archaeological site (Varaždinske Toplice, Croatia). Microbial Ecology, 69, 2: 293-306.
Mulec, J. 2014. Human impact on underground cultural and natural heritage sites, biological parameters of monitoring and remediation actions for insensitive surfaces: case of Slovenian show caves. Journal for Nature Conservation, 22, 2: 132-141.

MODULE GENERAL ELECTIVE COURSES