Assist. Prof. Janez Nared, Ph.D.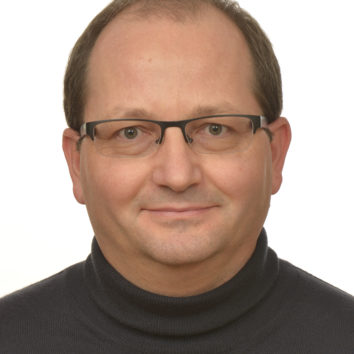 Senior Research Fellow and Assistant Director at Anton Melik Geographical Institute ZRC SAZU, Assistant Professor in the field of Geography

+386 1 4706 548
janez.nared@zrc-sazu.si

Education:
B. Sc. in Geography and Sociology (University of Ljubljana, 2001)
Ph. D. in Geography (University of Ljubljana, 2007)
M. A. in law (European Law School, Nova Gorica, 2009)
Fieldwork and research interests:
The key fields of his research are regional planning, regional development, regional policy, spatial planning, economic geography, and participatory planning. These fields are further developed in his basic and applied research, particularly in the territorial cooperation projects. The projects, that are implemented together with partners from other European countries, include also territorial governance. Furthermore, he constantly try to strengthen his knowledge in this field by study visits abroad (e.g. Bayreuth, Graz, Innsbruck).
Main visiting appointments:
Research Student, University of Bayreuth (2003);
Research Student, University of Graz (2004-2005);
Visiting Researcher, University of Innsbruck (2014)
Other:
member of the Steering committee of the symposium "Slovenian regional days"
co-editor of the Regional development and CAPACities book series
member of the Acta geographica Slovenica scientific review editorial board
chief editor for regional planning of the Acta geographica Slovenica
ambasador of the Regional Studies Association for Slovenia
member of the Committe for the Economy of the Regional Development Council of the Ljubljana Urban Region
member of the Publishing council of the Založba ZRC
assistant profesor at the University of Primorska, Faculty of humanities
member of the Organizing Committee of the annual Regional Studies Association conference "Transformations: Relational Spaces, beyond Urban and Rural"
member of the National Council of the Republic of Slovenia working group on preparation of the concept and legislation for the future regional division of the Republic of Slovenia
Selected publications:
Nared J. 2020. Participatory Transport Planning: The Experience of Eight European Metropolitan Regions. In: Nared J., Bole D. (eds) Participatory Research and Planning in Practice. The Urban Book Series. Cham: Springer. DOI: https://doi.org/10.1007/978-3-030-28014-7_2
Nared J., Bole D. 2020. Participatory Research on Heritage- and Culture-Based Development: A Perspective from South-East Europe. In: Nared J., Bole D. (eds) Participatory Research and Planning in Practice. The Urban Book Series. Cham: Springer. DOI: https://doi.org/10.1007/978-3-030-28014-7_7
Nared, J. 2020. Regional development in Slovenia. The geography of Slovenia: small but diverse. Cham: Springer Nature. DOI: https://doi.org/10.1007/978-3-030-14066-3_19
Nared, J., Bole, D., Razpotnik Visković, N., Tiran, J. 2020. Slovenian economy. The geography of Slovenia: small but diverse. Cham: Springer Nature. DOI: https://doi.org/10.1007/978-3-030-14066-3_12
Bole, D., Goluža, M., Tiran, J., Kumer, P., Topole, M., Nared, J. 2020. The settlement system in Slovenia. The geography of Slovenia: small but diverse. Cham: Springer Nature. DOI: https://doi.org/10.1007/978-3-030-14066-3_11
Nared, J. (ur.) 2019. Transforming European metropolitan regions: smart mobility for better liveability. 1st e-ed. Ljubljana: Založba ZRC.
Nared, J., Hudoklin, J., Kavaš, D., Zavodnik Lamovšek, A. 2019. Model povezovanja prostorskega in razvojnega načrtovanja na regionalni ravni. Založba ZRC, Ljubljana.
Nared, J. 2018. Local self-government reforms in Slovenia: discourse on centrality and peripherality. Nature, tourism and ethnicity as drivers of (de)marginalization: insights to marginality from perspective of sustainability and development, Cham: Springer Nature. DOI: https://doi.org/10.1007/978-3-319-59002-8_17
Rus, P; Nared, J., Bojnec, Š. 2018. Forms, areas, and spatial characteristics of intermunicipal cooperation in the Ljubljana urban region. Acta geographica Slovenica 58-2. DOI: https://doi.org/10.3986/AGS.4830
Gabrovec, M., Komac, B., Kozina, J., Polajnar Horvat, K., Nared, J., Smrekar, A., Topole, M., Urbanc, M. 2017. Triglav National Park, Slovenia, and its contribution to regional development. Eco.mont 9. DOI:10.1553/eco.mont-9-sis57
Nared, J., Bole, D., Breg Valjavec, M., Ciglič, R., Goluža, M., Kozina, J., Razpotnik Visković, N., Repolusk, P., Rus, P., Tiran, J., Černič Istenič, M. 2017. Centralna naselja v Sloveniji leta 2016. Acta geographica Slovenica, 57-2. DOI: https://doi.org/10.3986/AGS.4606
Nared. J., Razpotnik Visković, N. 2016. Somestja v Sloveniji. Geografski vestnik 88-2. DOI: https://doi.org/10.3986/GV88203

MODULE GENERAL ELECTIVE COURSES