Assist. Prof. Daniela Alexandra Teixeira da Costa Ribeiro, Ph. D.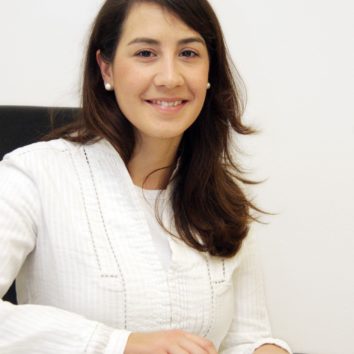 Assistant professor at doctoral study (3rd cycle) Environmental and Regional Studies at Postgraduate School ZRC SAZU.


daniela.ribeiro@zrc-sazu.si

Course principal:
Environmental and Regional Studies (doctoral study 3rd cycle)
Education:
B. Sc. in Environmental and Natural Resources Engineering (University of Trás-os-Montes and Alto Douro, Portugal, 2007)
M. Sc. in Environmental Science (University of Nova Gorica, 2011)
Ph. D. in Environmental Protection (University of Ljubljana, 2017)
Fieldwork and research interests:
I conducted my first field research in the Ljubljana area during a nine-month internship at the Institute for Anthropological and Spatial Studies ZRC SAZU between 2007 and 2008. My research focused on the spread of invasive species Fallopia japonica. In 2009, as part of my Master's degree, I conducted field research in Prekmurje, where I mapped the distribution patterns of the invasive plant species Robinia pseudoacacia and investigated the reasons for its spread. In spring 2011, together with colleagues from Jovan Hadži Biological Institute ZRC SAZU, I mapped the habitat types of Bela krajina in the Karst, this fieldwork lasted several months. As a result of this fieldwork experience, my research interest shifted from individual species to the landscape level, which I began to understand as an integrated concept. My PhD focused on the influence of landscape features on land use and regional development of karst areas. Between 2012 and 2016 I was often in the field, mapping land use cover and interviewing residents of Bela krajina. The relationship between environmental protection and social (human) activity was the main priority in my research. My research interests include land use change, ecosystem services, cultural landscapes, environmental protection, protected areas, sustainable land management, sustainable landscapes, and the relationship between humans and nature.
Main visiting appointments:
Research Student, Institute of Anthropological and Spatial Studies ZRC SAZU (2007-2008);
Visiting Researcher, Eötvös Loránd University (2009);
Visiting Researcher, Potsdam Institute for Climate Impact Research (2010).
Other
Member of the Organizing committee of the biannual symposium Geographical Information Systems in Slovenia;
Member of the International Association for Landscape Ecology;
Member of the Ecosystem Services Partnership;
Member of the Eastern Alpine and Dinaric Society for Vegetation Ecology;
Member of the Interdisciplinary group on Ecosystem Services ZRC SAZU;
Member of the Order of Engineers (regulatory and licensing body for the engineer profession in Portugal);
Member of the Steering Committee of theIGU Commission on Land Use and Land Cover Change;
Assistant professor at the University of Novo mesto, Faculty of Business and Management Sciences.
Selected publications:
Ribeiro, D., Zorn, M. 2021. Sustainability and Slovenian Karst Landscapes: Evaluation of a Low Karst Plain. Sustainability 13-4. DOI: https://doi.org/10.3390/su13041655
Ribeiro, D., Razpotnik Visković, N., Čarni, A. 2020. Landscape dynamics at borderlands: analysing land use changes from Southern Slovenia. Open geosciences 12-1. DOI: https://doi.org/10.1515/geo-2020-0212
Ribeiro, D. 2020. Bela krajina – sustainability in a karst landscape. Ljubljana: Založba ZRC. DOI: https://doi.org/10.3986/9789610504627
Smrekar, A., Polajnar Horvat, K., Ribeiro, D. 2020. Stakeholder analysis for (Mediterranean) wetland governance: the case of Ljubljansko Barje Nature Park, Slovenia. Participatory research and planning in practice. The Urban Book Series. Cham: Springer Nature. DOI: https://doi.org/10.1007/978-3-030-28014-7_11
Gabrovec, M., Kumer, P., Ribeiro, D., Šmid Hribar, M. 2020. Land use in Slovenia. The Geography of Slovenia: Small but Diverse. World Regional Geography Book Series. Cham: Springer. DOI: https://doi.org/10.1007/978-3-030-14066-3_18
Smrekar, A., Polajnar Horvat, K., Ribeiro, D. 2020. Slovenia's protected areas. The Geography of Slovenia: Small but Diverse. World Regional Geography Book Series. Cham: Springer. DOI: https://doi.org/10.1007/978-3-030-14066-3_21
Polajnar Horvat, K., Ribeiro, D. 2019. Izzivi v turističnem sektorju: kako se evropske turistične destinacije soočajo s preturizmom. Geografski vestnik 91(1). DOI: https://doi.org/10.3986/GV91104
Ribeiro, D., Šmid Hribar, M. 2019. Assessment of land-use changes and their impacts on ecosystem services in two Slovenian rural landscapes. Acta Geographica Slovenica 59-2. DOI: https://doi.org/10.3986/AGS.6636
Breg Valjavec, M., Zorn, M., Ribeiro, D. 2018. Mapping war geoheritage: recognising geomorphological traces of war. Open geosciences 10-1. DOI: https://doi.org/10.1515/geo-2018-0030
Breg Valjavec, M., Ciglič, R., Oštir, K., Ribeiro, D. 2018. Modelling habitats in karst landscape by integrating remote sensing and topography data. Open Geosciences 10-1. DOI: https://doi.org/10.1515/geo-2018-0011
Breg Valjavec, M., Ribeiro, D., Čarni, A. 2017. Vegetation as the bioindicator of human-induced degradation in karst landscape: case study of waste-filled dolines. Acta carsologica 46-1. DOI: https://doi.org/10.3986/ac.v46i1.4712
Ribeiro, D., Somodi, I., Čarni, A. 2016. Transferability of a predictive Robinia pseudacacia distribution model in northeast Slovenia. Acta geographica Slovenica 56-1. DOI: https://doi.org/10.3986/AGS.772
Ribeiro, D., Burnet, J. E., Torkar, G. 2013. Four windows on borderlands: dimensions of place defined by land cover change data from historical maps. Acta geographica Slovenica 53-2. DOI: https://doi.org/10.3986/AGS53204
Somodi, I., Čarni, A., Ribeiro, D., Podobnikar, T. 2012. Recognition of the invasive species Robinia pseudacacia from combined remote sensing and GIS sources. Biological Conservation 150-1. DOI: https://doi.org/10.1016/j.biocon.2012.02.014

MODULE GENERAL ELECTIVE COURSES